ALL ABOUT THE BIG WORLD WE REALLY LIVE IN
*** MORE NEWS SINCE THE LAST NEWSLETTER ***
LOUVOLITE 2017 FABRIC RANGE
As many of you know, the Louvolite Roadshow came through Adelaide last month to showcase the new fabrics.
SO MUCH OF THE RANGE HAS CHANGED, about 80% of last year's range has been replaced with new fabric.
We have been busy working on an updated Fabric Selection Chart as well as the price groups for each new range. We will be issuing the new list in the next few weeks but please feel free to contact us for information on groups and/or prices.
FOUR FAMILIES…
…have just released an announcement to the public – the Atlanta and Tremont fabric ranges are to be discontinued with new fabric ranges planned to be released later this year.
There is some stock still available in the Atlanta and Tremont colours, in both blockout and translucent.
Please contact us to check availability.
CBC TEAM MEMBERS
Each newsletter will feature a short article about a CBC team member. This month's offering is … "Greg Sadler", our Sales Manager with valuable knowledge and experience in the real world of blinds and window coverings.
Greg ….
• Likes long walks on the beach with wind billowing through his gorgeous locks
• Likes whining and dining with good friends
• Loves nothing better than spending all his spare time cataloguing his collection of supermarket plastic shopping bags from all over the world.
Disclaimer :
Picture shown is for illustration purposes only. Actual product may vary due to reality.
ALUMINIUM VENETIANS
Faber have also just released a new range of colours for the Aluminum Venetian market, due out very soon. New colours AND new finishes – Gloss and Satin, Pearl Finish, Special Finish, Matt and Perforated. Due to the different finishes now available, we have had to extend our pricing by two groups to cover the Matt, Special, Brushed Silver and Perforated finishes. Please contact us for further information.
INTERESTING fact to ponder:
Luxaflex like the colours so much, they have exactly the SAME range of colours…
TUSCANY TIMBER VENETIANS
Blindware have revised and increased their Tuscany PVC range to now include colours like 'Moon Stone' and 'Ash Rose', but don't worry, the old favourites are still there such as 'Snow White' and 'Pearl White'.
Please contact us for new swatching.
D30 SILENT BOTTOM RAILS
This new bottom rail design allows insertion of a Bubble Seal and/or a fabric brush to assist with maintaining a quiet environment, ensuring noise is muted when the bar comes in contact with window frames when disturbed by movement.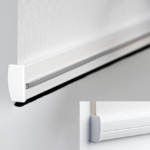 Inserting a fabric brush can close up extra light gaps on cassette dim out roller shades, providing an increased light block-out solution.
(click the picture to enlarge)
VISION BLIND range includes 4 new fabrics!
Amalfi, Sicily, Naples and Roma now join Florence, Milan and co. in the Vision range!!
(Can you see a pattern here?? Nah…we can't either……)
So give Greg a call for more details!!
CBC WEBSITE UPDATE
"completeblindco.com.au"
The story so far………………….the Complete Blinds Co IT sweatshop team are working hard and we are nearly up and running with our new site with the aim of being user friendly for our customers with information they may need on the run.
Newsletters, such as this one, will be available online 24/7 – a selection of previous newsletters will be archived and accessible to you at any time.
ANOTHER INTERESTING fact to ponder:
Alphabet spaghetti doesn't include all the letters of the alphabet.
♫ "ON THE ROAD AGAIN…" ♫
Fabio Greg will be back on the road again shortly as soon as all our new swatching has arrived. We have new Honeycomb fabrics and colours, Faber Venetian colours, Vision Blind Fabrics, Visage blinds and more to update you with. We have listed the new swatch pricing as follows;
| | | | |
| --- | --- | --- | --- |
| ⇒ Louvolite Roller Book | $200 + GST | ⇒ Bricos WoodStock Swatch | $30 + GST |
| ⇒ Louvolite Vertical Book | $87 + GST | ⇒ Bricos Faber Softline Swatch | $30 + GST |
| ⇒ Louvolite Vision Book | $97 + GST | ⇒ Bricos Honeycomb Book | $275 + GST |
| ⇒ Louvolite Visage Book | $62 + GST | ⇒ Acmeda Bottom Rail Swatch | $8 + GST |
| ⇒ Louvolite Visage Colour Selector | $36 + GST | ⇒ Blindware Tuscany Swatch | $15 + GST |
**Plus freight @ $25 + GST per order
EASE THE PAIN
To help ease the pain with swatching requirements, we have initiated a couple of programs;
• The Faber Venetian Swatch we will replace free of charge NEW for OLD, old being the previous blue and white swatch. Additional swatches we will have to charge for as per rates above.
• We will offer our customers a rebate on Honeycomb books once the wholesale sales value reaches $5000 for this product
• We will offer our customers a rebate on Louvolite Roller books once the wholesale sales value reaches $5000 for this product
Until we meet again…. Ciao ciao!! xx